Professional Regular Cleaning in London
Welcome to Mop It Like It's Hot, London's premier home and office regular cleaning agency. At our company, we pride ourselves on exceptional cleaning standards for a cheap price and working with the best domestic cleaners.
Our regular cleaning services are trusted by an array of property developers, general homeowners, long and short term renting tenants, office owners and even the occasional Russian oil tycoon.
Our professional and experienced cleaners spend a lot of time cleaning end-of-tenure properties throughout North, South, East and West London so they have created a strict cleaning process, which will leave your property feeling revived and refreshed.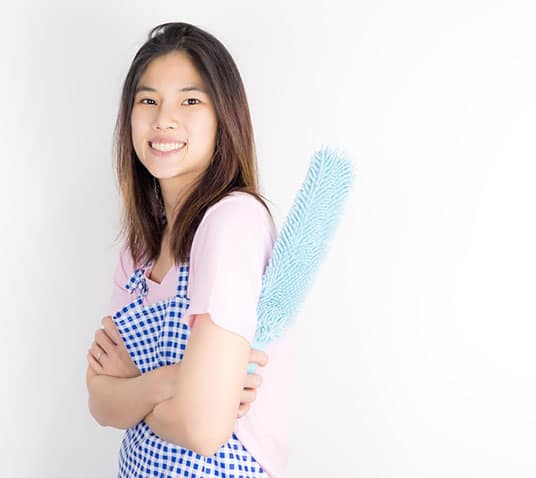 Regular Cleaners in London
Placing your trust in a regular cleaning agency is a difficult decision, which is why at Mop It Like It's Hot, we implement a screening process that ensures we're only hand selecting the best professional cleaners out there with a genuine passion for what they do. This accompanies our mandatory CRB checks, so you can rest assured you're in good hands when you take up any regular cleaning work with our company.
We must also stress the point that we are an environmentally friendly cleaning agency, and that has also been embedded deep within the root of our ethos. Taking the motto directly from Tesco's, "every little helps", and you'd be suprised with the amount of chemicals that competitors use to get the cleaning job done cheap. We don't doubt that their solutions work, but at what cost?
So, from original wooden floors, to oak veneer skirting boards, to sisal covered stairs and detailed Victorian coving, our specialist knowledge and years of industry experience, gives Mop It Like It's Hot a real edge over other regular cleaning services offered in North, South, East and West London.
Trust
When allowing people into your home, trust is of crucial importance, and by ensuring all our cleaners undergo our strict in-depth screening, as well as the compulsory CRB checks, we know, hand on heart, that you can trust our team.
Outstanding Service
We regularly receive letters from satisfied customers commending us on our services, but in the unlikely event that you are not completely happy, we'll discuss the circumstances with you, and offer a full re-clean free of charge.
Low Rates
Whilst there are cleaning agencies that may be cheaper, we take pride in offering an excellent service, leaving your home or commercial environment spotless. Providing the best value for money, see what Mop It Like It's Hot can do for you.
What Our Customers Say About Us
"I was able to book a complete clean with Mop It Like Its Hot after my tenants left my property in a bit of a state, and was able to get new tenants in very quickly as a result"
Stacey, London
"We were very pleased with the serviec from Mop It Like Its Hot, and are happy to recommend them to all our friends"
Su, South London
"A friend recommended Mop It Like Its Hot, and I must say what a good job they did. Quick, professional and with a great result!"
Tim, Enfield
Get your Free Quote
Mop It Like It's Hot's cleaning team is determined to make your home sparkle, only finishing when you are completely happy.
Please contact us using the quote form on our website, or ring the office and our friendly customer service team will take you through our deals, and answer any questions you may have.
Areas We Cover
E1 - Aldgate
E1 - Bethnal Green
E1 - City of London
E1 - Mile End
E1 - Shoreditch
E1 - Stepney
E1 - Whitechapel
E2 - Bethnal Green
E2 - Shoreditch
E2 - Stepney
E3 - Bethnal Green
E3 - Bow
E3 - Bromley by Bow
E3 - Poplar
E3 - Stepney
E3 - West Ham
E4 - Chingford
E4 - Highams Park
E4 - Stepney
E5 - Clapton
E5 - Hackney
E6 - Barking
E6 - Beckton
E6 - East Ham
E7 - East Ham
E7 - Forest Gate
E7 - Upton Park
E7 - Wanstead
E7 - West Ham
E8 - Dalston
E8 - Hackney
E8 - Shoreditch
E9 - Hackney
E9 - Homerton
E9 - Poplar
E10 - Leyton
E11 - Leyton
E11 - Leytonstone
E11 - Wanstead
E12 - East Ham
E12 - Manor Park
E12 - Wanstead
E13 - Plaistow
E13 - West Ham
E14 - Isle of Dogs
E14 - Millwall
E14 - Poplar
E14 - Stepney
E15 - Canning Town
E15 - Hackney
E15 - Leyton
E15 - Poplar
E15 - Stratford
E15 - West Ham
E16 - Canning Town
E16 - Docklands
E16 - East Ham
E16 - North Woolwich
E16 - Victoria Dock
E16 - West Ham
E16 - Woolwich
E17 - Leyton
E17 - Walthamstow
E18 - South Woodford
E18 - Wanstead
E18 - Woodford
EC1 - Barbican
EC1 - City of London
EC1 - Clerkenwell
EC1 - Finsbury
EC1 - Holborn
EC1 - Shoreditch
EC2 - Bishopsgate
EC2 - City of London
EC2 - Finsbury
EC2 - Liverpool Street
EC2 - Moorgate
EC2 - Shoreditch
EC3 - Aldgate
EC3 - City of London
EC3 - Fenchurch Street
EC3 - Monument
EC3 - Stepney
EC3 - Tower Hill
EC4 - Blackfriars
EC4 - City of London
EC4 - Fleet Street
EC4 - St. Paul's
EC4 - Temple
N1 - Barnsbury
N1 - Canonbury
N1 - Finsbury
N1 - Hackney
N1 - Islington
N1 - Shoreditch
N1 - St. Pancras
N2 - East Finchley
N2 - Hornsey
N3 - Finchley
N3 - Finchley Central
N3 - Finchley Church End
N4 - Finsbury Park
N4 - Hornsey
N4 - Islington
N4 - Manor House
N4 - Stoke Newington
N5 - Highbury
N5 - Islington
N5 - Tottenham
N6 - Hampstead
N6 - Highgate
N6 - Hornsey
N6 - St. Pancras
N7 - Holloway
N7 - Islington
N8 - Crouch End
N8 - Hornsey
N8 - Islington
N8 - Tottenham
N9 - Lower Edmonton
N10 - Hornsey
N10 - Muswell Hill
N10 - Wood Green
N11 - Friern Barnet
N11 - New Southgate
N12 - North Finchley
N12 - Woodside Park
N13 - Palmers Green
N14 - Islington
N14 - Southgate
N14 - Tottenham
N15 - Seven Sisters
N15 - South Tottenham
N16 - Hackney
N16 - Islington
N16 - Stamford Hill
N16 - Stoke Newington
N17 - Tottenham
N18 - Upper Edmonton
N19 - Archway
N19 - Islington
N19 - St. Pancras
N19 - Tufnell Park
N19 - Upper Holloway
N20 - Totteridge
N20 - Whetstone
N21 - Winchmore Hill
N22 - Alexandra Palace/Park
N22 - Tottenham
N22 - Wood Green
NW1 - Camden Town
NW1 - Regent's Park
NW1 - St. Marylebone
NW1 - St. Pancras
NW2 - Cricklewood
NW2 - Dollis Hill
NW2 - Hampstead
NW2 - Hendon
NW2 - Neasden
NW2 - Willesden
NW2 - Willesden Green
NW3 - Belsize Park
NW3 - Brent Cross
NW3 - Finchley
NW3 - Hampstead
NW3 - Hendon
NW3 - St. Pancras
NW3 - Swiss Cottage
NW4 - Brent Cross
NW4 - Hendon
NW5 - Hampstead
NW5 - Hendon
NW5 - Kentish Town
NW5 - St. Pancras
NW6 - Brondesbury Park
NW6 - Kilburn
NW6 - Paddington
NW6 - Queens Park
NW6 - South Hampstead
NW6 - West Hampstead
NW6 - Willesden
NW7 - Mill Hill
NW8 - Hampstead
NW8 - St. John's Wood
NW8 - St. Marylebone
NW9 - Colindale
NW9 - Hendon
NW9 - Kingsbury
NW9 - The Hyde
NW10 - Acton
NW10 - Hammersmith
NW10 - Harlesden
NW10 - Kensal Green
NW10 - Kensal Rise
NW10 - Wembley
NW10 - Willesden
NW11 - Finchley
NW11 - Golders Green
NW11 - Hampstead Garden Suburb
NW11 - Hendon
SE1 - Bermondsey
SE1 - Borough
SE1 - Camberwell
SE1 - Lambeth
SE1 - Southwark
SE1 - Waterloo
SE1 - Woolwich
SE2 - Abbey Wood
SE2 - Erith
SE2 - Woolwich
SE3 - Blackheath
SE3 - Greenwich
SE3 - Kidbrooke
SE3 - Lewisham
SE3 - Westcombe Park
SE4 - Brockley
SE4 - Crofton Park
SE4 - Deptford
SE4 - Honor Oak Park
SE4 - Lewisham
SE5 - Camberwell
SE5 - Lambeth
SE5 - Southwark
SE6 - Bellingham
SE6 - Catford
SE6 - Hither Green
SE6 - Lewisham
SE7 - Charlton
SE7 - Greenwich
SE8 - Bermondsey
SE8 - Deptford
SE8 - Greenwich
SE8 - Lambeth
SE9 - Chislehurst
SE9 - Eltham
SE9 - Mottingham
SE9 - Woolwich
SE10 - Greenwich
SE10 - Lewisham
SE11 - Kennington
SE11 - Lambeth
SE11 - Southwark
SE12 - Chislehurst
SE12 - Grove Park
SE12 - Lambeth
SE12 - Lee
SE12 - Lewisham
SE12 - Woolwich
SE13 - Greenwich
SE13 - Hither Green
SE13 - Lewisham
SE14 - Camberwell
SE14 - Deptford
SE14 - New Cross
SE14 - New Cross Gate
SE15 - Camberwell
SE15 - Deptford
SE15 - Nunhead
SE15 - Peckham
SE16 - Bermondsey
SE16 - Camberwell
SE16 - Deptford
SE16 - Lewisham
SE16 - Rotherhithe
SE16 - South Bermondsey
SE16 - Surrey Docks
SE16 - Woolwich
SE17 - Camberwell
SE17 - Elephant & Castle
SE17 - Lambeth
SE17 - Southwark
SE17 - Walworth
SE18 - Greenwich
SE18 - Lewisham
SE18 - Plumstead
SE18 - Woolwich
SE19 - Camberwell
SE19 - Croydon
SE19 - Crystal Palace
SE19 - Lambeth
SE19 - Lewisham
SE19 - Penge
SE19 - Upper Norwood
SE20 - Anerley
SE20 - Beckenham
SE20 - Penge
SE21 - Camberwell
SE21 - Dulwich
SE21 - Lambeth
SE21 - West Dulwich
SE22 - Camberwell
SE22 - East Dulwich
SE22 - Wandsworth
SE23 - Forest Hill
SE23 - Lewisham
SE24 - Camberwell
SE24 - Herne Hill
SE24 - Lambeth
SE25 - Croydon
SE25 - Lambeth
SE25 - South Norwood
SE26 - Beckenham
SE26 - Camberwell
SE26 - Lewisham
SE26 - Sydenham
SE26 - Upper Sydenham
SE27 - Lambeth
SE27 - Tulse Hill
SE27 - West Norwood
SE28 - Thamesmead
SW1 - Battersea
SW1 - Belgravia
SW1 - Brompton
SW1 - Chelsea
SW1 - Pimlico
SW1 - Victoria
SW1 - Westminster
SW2 - Brixton
SW2 - Lambeth
SW2 - Streatham Hill
SW2 - Wandsworth
SW3 - Brompton
SW3 - Chelsea
SW3 - Kensington
SW4 - Clapham
SW4 - Lambeth
SW4 - Wandsworth
SW5 - Earl's Court
SW5 - Fulham
SW5 - Kensington
SW6 - Fulham
SW6 - Parson's Green
SW6 - Wandsworth
SW7 - Brompton
SW7 - Knightsbridge
SW7 - South Kensington
SW7 - Westminster
SW8 - Battersea
SW8 - Nine Elms
SW8 - South Lambeth
SW8 - Vauxhall
SW8 - Wandsworth
SW9 - Brixton
SW9 - Lambeth
SW9 - North Brixton
SW9 - Stockwell
SW10 - Chelsea
SW10 - Fulham
SW10 - Kensington
SW10 - West Brompton
SW10 - World's End
SW11 - Battersea
SW11 - Clapham Junction
SW12 - Balham
SW12 - Battersea
SW12 - Wandsworth
SW13 - Barnes
SW13 - Castelnau
SW14 - East Sheen
SW14 - Mortlake
SW15 - Barnes
SW15 - Kensington
SW15 - Malden
SW15 - Putney
SW15 - Roehampton
SW15 - Wandsworth
SW16 - Croydon
SW16 - Lambeth
SW16 - Mitcham
SW16 - Norbury
SW16 - Streatham
SW16 - Wandsworth
SW17 - Battersea
SW17 - Mitcham
SW17 - Tooting
SW17 - Wandsworth
SW17 - Wimbledon
SW18 - Battersea
SW18 - Earlsfield
SW18 - Wandsworth
SW19 - Collier's Wood
SW19 - Merton
SW19 - Mitcham
SW19 - Wandsworth
SW19 - Wimbledon
SW20 - Cottenham Park
SW20 - Merton
SW20 - Raynes Park
SW20 - West Wimbledon
SW20 - Wimbledon
W1 - Mayfair
W1 - Soho
W1 - St. Marylebone
W1 - St. Pancras
W1 - Westminster
W2 - Acton
W2 - Bayswater
W2 - Hyde Park
W2 - Kensington
W2 - Paddington
W2 - Westminster
W3 - Acton
W4 - Acton
W4 - Chiswick
W5 - Ealing
W6 - Chiswick
W6 - Fulham
W6 - Hammersmith
W7 - Hanwell
W8 - Kensington
W9 - Maida Hill
W9 - Maida Vale
W9 - Paddington
W9 - Warwick Avenue
W10 - Hammersmith
W10 - Kensington
W10 - Ladbroke Grove
W10 - North Kensington
W10 - Paddington
W10 - Willesden
W11 - Hammersmith
W11 - Holland Park
W11 - Kensington
W11 - Notting Hill
W11 - Paddington
W12 - Hammersmith
W12 - Shepherd's Bush
W13 - West Ealing
W14 - Fulham
W14 - Hammersmith
W14 - West Kensington
WC1 - Bloomsbury
WC1 - Finsbury
WC1 - Gray's Inn
WC1 - Holborn
WC1 - St. Pancras
WC2 - Covent Garden
WC2 - Holborn
WC2 - Strand
WC2 - Westminster
Abbey Wood - SE2
Acton - NW10
Acton - W2
Acton - W3
Acton - W4
Aldgate - E1
Aldgate - EC3
Alexandra Palace/Park - N22
Anerley - SE20
Archway - N19
Balham - SW12
Barbican - EC1
Barking - E6
Barnes - SW13
Barnes - SW15
Barnsbury - N1
Battersea - SW1
Battersea - SW8
Battersea - SW11
Battersea - SW12
Battersea - SW17
Battersea - SW18
Bayswater - W2
Beckenham - SE20
Beckenham - SE26
Beckton - E6
Belgravia - SW1
Bellingham - SE6
Belsize Park - NW3
Bermondsey - SE1
Bermondsey - SE8
Bermondsey - SE16
Bethnal Green - E1
Bethnal Green - E2
Bethnal Green - E3
Bishopsgate - EC2
Blackfriars - EC4
Blackheath - SE3
Bloomsbury - WC1
Borough - SE1
Bow - E3
Brent Cross - NW3
Brent Cross - NW4
Brixton - SW2
Brixton - SW9
Brockley - SE4
Bromley by Bow - E3
Brompton - SW1
Brompton - SW3
Brompton - SW7
Brondesbury Park - NW6
Camberwell - SE1
Camberwell - SE5
Camberwell - SE14
Camberwell - SE15
Camberwell - SE16
Camberwell - SE17
Camberwell - SE19
Camberwell - SE21
Camberwell - SE22
Camberwell - SE24
Camberwell - SE26
Camden Town - NW1
Canning Town - E15
Canning Town - E16
Canonbury - N1
Castelnau - SW13
Catford - SE6
Charlton - SE7
Chelsea - SW1
Chelsea - SW3
Chelsea - SW10
Chingford - E4
Chislehurst - SE9
Chislehurst - SE12
Chiswick - W4
Chiswick - W6
City of London - E1
City of London - EC1
City of London - EC2
City of London - EC3
City of London - EC4
Clapham - SW4
Clapham Junction - SW11
Clapton - E5
Clerkenwell - EC1
Colindale - NW9
Collier's Wood - SW19
Cottenham Park - SW20
Covent Garden - WC2
Cricklewood - NW2
Crofton Park - SE4
Crouch End - N8
Croydon - SE19
Croydon - SE25
Croydon - SW16
Crystal Palace - SE19
Dalston - E8
Deptford - SE4
Deptford - SE8
Deptford - SE14
Deptford - SE15
Deptford - SE16
Docklands - E16
Dollis Hill - NW2
Dulwich - SE21
Ealing - W5
Earl's Court - SW5
Earlsfield - SW18
East Dulwich - SE22
East Finchley - N2
East Ham - E6
East Ham - E7
East Ham - E12
East Ham - E16
East Sheen - SW14
Elephant & Castle - SE17
Eltham - SE9
Erith - SE2
Fenchurch Street - EC3
Finchley - NW3
Finchley - NW11
Finchley - N3
Finchley Central - N3
Finchley Church End - N3
Finsbury - EC1
Finsbury - EC2
Finsbury - N1
Finsbury - WC1
Finsbury Park - N4
Fleet Street - EC4
Forest Gate - E7
Forest Hill - SE23
Friern Barnet - N11
Fulham - SW5
Fulham - SW6
Fulham - SW10
Fulham - W14
Fulham - W6
Golders Green - NW11
Gray's Inn - WC1
Greenwich - SE3
Greenwich - SE7
Greenwich - SE8
Greenwich - SE10
Greenwich - SE13
Greenwich - SE18
Grove Park - SE12
Hackney - E5
Hackney - E8
Hackney - E9
Hackney - E15
Hackney - N1
Hackney - N16
Hammersmith - NW10
Hammersmith - W6
Hammersmith - W10
Hammersmith - W11
Hammersmith - W12
Hammersmith - W14
Hampstead - N6
Hampstead - NW2
Hampstead - NW3
Hampstead - NW5
Hampstead - NW8
Hampstead Garden Suburb - NW11
Hanwell - W7
Harlesden - NW10
Hendon - NW2
Hendon - NW3
Hendon - NW4
Hendon - NW5
Hendon - NW9
Hendon - NW11
Herne Hill - SE24
Highams Park - E4
Highbury - N5
Highgate - N6
Hither Green - SE6
Hither Green - SE13
Holborn - EC1
Holborn - WC1
Holborn - WC2
Holland Park - W11
Holloway - N7
Homerton - E9
Honor Oak Park - SE4
Hornsey - N2
Hornsey - N4
Hornsey - N6
Hornsey - N8
Hornsey - N10
Hyde Park - W2
Isle of Dogs - E14
Islington - N1
Islington - N4
Islington - N5
Islington - N7
Islington - N8
Islington - N14
Islington - N16
Islington - N19
Kennington - SE11
Kensal Green - NW10
Kensal Rise - NW10
Kensington - SW3
Kensington - SW5
Kensington - SW10
Kensington - SW15
Kensington - W2
Kensington - W8
Kensington - W10
Kensington - W11
Kentish Town - NW5
Kidbrooke - SE3
Kilburn - NW6
Kingsbury - NW9
Knightsbridge - SW7
Ladbroke Grove - W10
Lambeth - SE1
Lambeth - SE5
Lambeth - SE8
Lambeth - SE11
Lambeth - SE12
Lambeth - SE17
Lambeth - SE19
Lambeth - SE21
Lambeth - SE24
Lambeth - SE25
Lambeth - SE27
Lambeth - SW2
Lambeth - SW4
Lambeth - SW9
Lambeth - SW16
Lee - SE12
Lewisham - SE3
Lewisham - SE4
Lewisham - SE6
Lewisham - SE10
Lewisham - SE12
Lewisham - SE13
Lewisham - SE16
Lewisham - SE18
Lewisham - SE19
Lewisham - SE23
Lewisham - SE26
Leyton - E10
Leyton - E11
Leyton - E15
Leyton - E17
Leytonstone - E11
Liverpool Street - EC2
Lower Edmonton - N9
Maida Hill - W9
Maida Vale - W9
Malden - SW15
Manor House - N4
Manor Park - E12
Mayfair - W1
Merton - SW19
Merton - SW20
Mile End - E1
Mill Hill - NW7
Millwall - E14
Mitcham - SW16
Mitcham - SW17
Mitcham - SW19
Monument - EC3
Moorgate - EC2
Mortlake - SW14
Mottingham - SE9
Muswell Hill - N10
Neasden - NW2
New Cross - SE14
New Cross Gate - SE14
New Southgate - N11
Nine Elms - SW8
Norbury - SW16
North Brixton - SW9
North Finchley - N12
North Kensington - W10
North Woolwich - E16
Notting Hill - W11
Punhead - SE15
Paddington - NW6
Paddington - W2
Paddington - W9
Paddington - W10
Paddington - W11
Palmers Green - N13
Parson's Green - SW6
Peckham - SE15
Penge - SE19
Penge - SE20
Pimlico - SW1
Plaistow - E13
Plumstead - SE18
Poplar - E3
Poplar - E9
Poplar - E14
Poplar - E15
Putney - SW15
Queens Park - NW6
Raynes Park - SW20
Regent's Park - NW1
Roehampton - SW15
Rotherhithe - SE16
St. John's Wood - NW8
St. Marylebone - NW1
St. Marylebone - NW8
St. Marylebone - W1
St. Pancras - N1
St. Pancras - N6
St. Pancras - N19
St. Pancras - NW1
St. Pancras - NW3
St. Pancras - NW5
St. Pancras - W1
St. Pancras - WC1
St. Paul's - EC4
Seven Sisters - N15
Shepherd's Bush - W12
Shoreditch - E1
Shoreditch - E2
Shoreditch - E8
Shoreditch - EC1
Shoreditch - EC2
Shoreditch - N1
Soho - W1
South Bermondsey - SE16
South Hampstead - NW6
South Kensington - SW7
South Lambeth - SW8
South Norwood - SE25
South Tottenham - N15
South Woodford - E18
Southgate - N14
Southwark - SE1
Southwark - SE5
Southwark - SE11
Southwark - SE17
Stamford Hill - N16
Stepney - E1
Stepney - E2
Stepney - E3
Stepney - E4
Stepney - E14
Stepney - EC3
Stockwell - SW9
Stoke Newington - N4
Stoke Newington - N16
Strand - WC2
Stratford - E15
Streatham - SW16
Streatham Hill - SW2
Surrey Docks - SE16
Swiss Cottage - NW3
Sydenham - SE26
Temple - EC4
Thamesmead - SE28
The Hyde - NW9
Tooting - SW17
Tottenham - N5
Tottenham - N8
Tottenham - N14
Tottenham - N17
Tottenham - N22
Totteridge - N20
Tower Hill - EC3
Tufnell Park - N19
Tulse Hill - SE27
Upper Edmonton - N18
Upper Holloway - N19
Upper Norwood - SE19
Upper Sydenham - SE26
Upton Park - E7
Vauxhall - SW8
Victoria - SW1
Victoria Dock - E16
Walthamstow - E17
Walworth - SE17
Wandsworth - SE22
Wandsworth - SW2
Wandsworth - SW4
Wandsworth - SW6
Wandsworth - SW8
Wandsworth - SW12
Wandsworth - SW15
Wandsworth - SW16
Wandsworth - SW17
Wandsworth - SW18
Wandsworth - SW19
Wanstead - E7
Wanstead - E11
Wanstead - E12
Wanstead - E18
Warwick Avenue - W9
Waterloo - SE1
Wembley - NW10
West Brompton - SW10
West Dulwich - SE21
West Ealing - W13
West Ham - E3
West Ham - E7
West Ham - E13
West Ham - E15
West Ham - E16
West Hampstead - NW6
West Kensington - W14
West Norwood - SE27
West Wimbledon - SW20
Westcombe Park - SE3
Westminster - SW1
Westminster - SW7
Westminster - W1
Westminster - W2
Westminster - WC2
Whetstone - N20
Whitechapel - E1
Willesden - NW2
Willesden - NW6
Willesden - NW10
Willesden - W10
Willesden Green - NW2
Wimbledon - SW17
Wimbledon - SW19
Wimbledon - SW20
Winchmore Hill - N21
Wood Green - N10
Wood Green - N22
Woodford - E18
Woodside Park - N12
Woolwich - E16
Woolwich - SE1
Woolwich - SE2
Woolwich - SE9
Woolwich - SE12
Woolwich - SE16
Woolwich - SE18
World's End - SW10